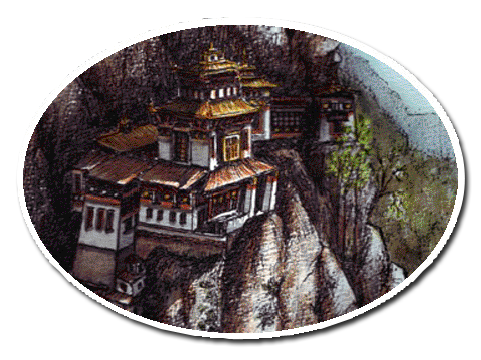 The Tiger's Nest
All of a sudden we came to a junction where the cave split into two directions. The cave floor at this juncture was strewn with Kit Kat wrappers, empty water bottles and instant noodles packaging.
"My Kor must be here. All these are his favourites. He loves Kit Kat chocolate bars and instant noodles."
"Listen up children, the girls will follow me into the left cave and the boys will continue into the right. Boys, tell me if you find Brandon or encounter any danger, okay?"
"Roger that, Squeaky,"chorused the boys.
Lionel was rather scared. But Bryan wasn't. His past experience had given him a lot of confidence. They walked gingerly inwards, taking extra care to look at the ground and the ceiling and all around before taking each step forward. This cave was curving left and right like a serpent. After a few turns, they saw another bluish ray of light coming from the inner part of the cave. Bryan rushed forward but was instantly pulled back by Lionel.
"Be careful, Bryan. It could be a trap. Tread carefully and look before you leap."
"Yeah, Lionel, I think you are right."
They took a cursory look around each time they inched forward until the next turn and their jaws dropped. Right in front of them they could see Brandon ...
---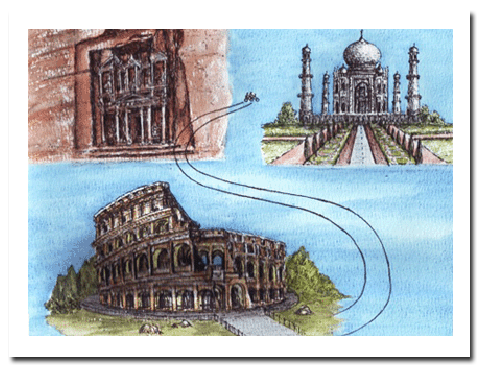 Wonders of the World II
The Colosseum was astounding and colossal! The majestic ruined levels of the Colosseum intrigued both boys and when they got onto the central ground where the mock gladiator fights were going on, Triddy flew straight into the weapon of one of the gladiator actors. The latter swung up his weapon right into the flight path of Triddy and both boys, Triddy and all were flung backwards onto the floor of the Colosseum.
"Hey, I hit something, I really did!" exclaimed the gladiator actor.
"No, you didn't. Come on, let's fight! Don't try to distract me!" said his acting opponent, not able to see Triddy and the boys lying on the floor. Both boys were knocked out by the blow but Triddy was alert and it sent an SOS message to me.
I took out my crystal ball and demanded to see them. I was livid to see the dwarfed boys sitting limply on the tiny Triddy sprawled across the Colosseum's floor.
"Wake up Bryan! Wake up Lionel! Come on, wake up! Boys! You need to wake up now before you get trampled upon by the actors ..."