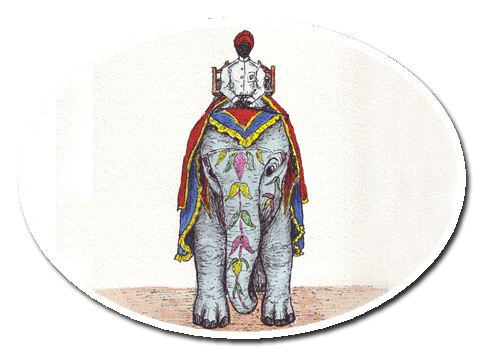 A Dressed-up Elephant at Amber Fort Palace
... The children were thrilled that they were sitting on the very first elephant. When all passengers were on board, their mahout instructed their elephant to move and off we went. The children were beaming from ear to ear when they felt their elephant moving gracefully out of the line and onto the upward ramp. It was a picturesque sight from the back of the elephant, especially when they looked back at the whole row of elephants following them with other tourists on their backs.
"Wow! This is the biggest thrill of my life, Squeaky," said Bryan, lost in a world of his own and forgetting that he was speaking in the local language. The mahout of their elephant turned around and asked Bryan why he called him Squeaky. Bryan was stunned and didn't know what to say. Brandon rushed to 'rescue' him and explained that sometimes when he got excited, he would squeak in his laughter ... hence the nickname given by his little brother. The mahout was very amused and asked Brandon to show off his squeaky laughter. Brandon tried very hard to fake it but sounded like a rubber duck being squashed. The mahout burst out laughing, followed by So–Ying and Bryan. Brandon couldn't help joining in as their hearty laughter was so contagious. ...
---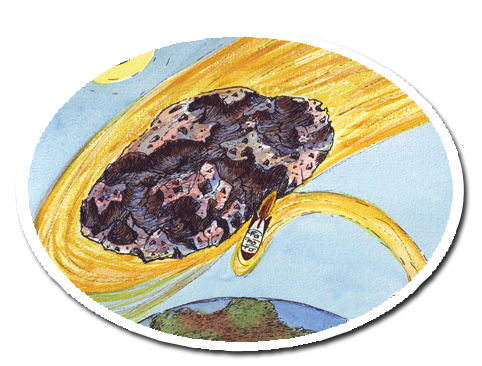 Near Collision With Meteoroid
..."Hey guys, we are about to land on the moon soon. On the screen are the salient features of the moon and its characteristics. I hope you find them interesting."
At that very moment, Bryan shouted, "Look out, Squeaky! That huge rock is heading our way!"
"Where?"
"Yes, Squeaky, I see it too. Three o'clock, Squeaky! Hurry, get out of its way! It looks like it will knock us out of the Solar System," cried Brandon urgently in a panicky voice.
So–Ying was too horrified to say a thing. Dexter remained cool and didn't budge in his seat.
True enough; a massive meteoroid was heading our way at the speed of light from my three o'clock direction. I swerved the rocket suddenly to the left, shouting at the same time, "Everyone to the left!" ...